Jolly Frog Hotel, Kanchanaburi (Thailand)
metadata

keywords:
published:
updated:
This morning I have already managed to go to the bus station and check out where they go to. There are no services from Kanchanaburi to Sukhothai or Chang Mai. This means I'll have to go via Bangkok. Whilst at the bus station I also check out the times for the bus to Erawan, which seems fairly consistent. My plan is thus: go to Tiger's Temple this afternoon; go to Erawan Waterfalls tomorrow; go to Sukhothai (for Sukhothai Historical Park) the day after. Another note: rickshaws are small, I always have to stoop to sit in them, my head hits the roof!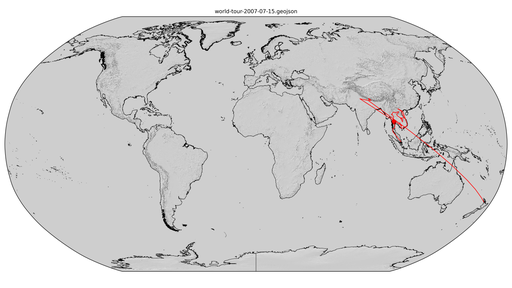 Tiger's Temple was not what I expected. It was really touristy for a start. The entire place is an animal sanctuary. Between 1PM and 4PM the tigers are brought to a tiny quarry and chained up. Visitors queue up and are escorted around 3 tigers by someone holding their hand. Another guide takes your camera and takes photos of you. It was good to get up close and personal but I was disappointed I couldn't take my own photos. I understand why though, too many times I have tripped up because I have been looking through the lens and not seen where I was going. God knows what might happen if tigers were around!
I had got talking to a guy from Denmark and we walked around the place together. We came across an area where there was a tiger cub which we could have placed on our lap; he/she was absolutely beautiful. It was a bit feisty but amazing to see so close up. I got a little scratch on my arm - yay!
I have not yet made up my mind if I think it is a good place or not.
… Just want to say that today I held a tiger cub in my lap and looked into it's eyes as it was teething on anything in range. Me and the Danish guy joked in the pickup on the way back, but now, thinking about it, it is certainly possible: if I ever have grand children; the only tigers left will be in zoos. It is very upsetting, at least I have photos to show them. Today really moved me, I suppose.