Garden House Hotel, Sukhothai (Thailand)
metadata

keywords:
published:
updated:
Well, I'm back in my room after visiting Si Satchanalai Historical Park. Getting there was an adventure in itself. A small bus took me to the bus station where I got a bus to Si Satchanalai. After about 1 and a quarter hours the conductor told me to get off and I was dumped at the side of the road. I certainly wouldn't have seen the sign if I was driving. At the side of the road I hired a bike for 20THB for the day. She said it was 3km away so I put it in my GPS. When I got to the entrance (via a wooden suspension foot bridge) the bus stop was only 300m away!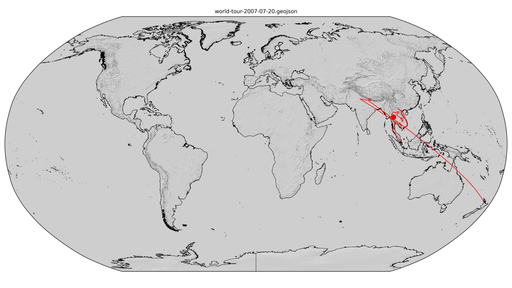 I was presented with a map and was shown where I was. She was about 1.5km wrong! Within 10 minutes I sorted myself out. The ruins here are a lot more ruined that in Sukhothai, yet they were far fewer tourists and the ruins were spread out more, much more. I'd say the site was at least 4 times the area of yesterday's. It was pleasant cycling around between each ruin. There were also hundreds of white stalks (or cranes), very cool. I took a fair amount of photos but I think my artistic enthusiasm is running out for ruins; I'll probably only spend 5 minutes at Angkor when I get there in a few months time.