Golden Fern Hotel, Chang Mai (Thailand)
metadata

keywords:
published:
updated:
This morning I went in search of linen shirts as I'm running out of clean clothes. I made my way to Warorot Market which is the first decent sized market I've found on this trip. I got myself 2 linen shirts and a satchel so I don't have to stuff things in my pockets any more. I also sold off some of the books I've read. It offset the satchel I bought, finance-wise. Laundry was submitted after getting changed. I started to find my way around Chang Mai. Its harder to do than Bangkok as there are no landmarks or Sky Train.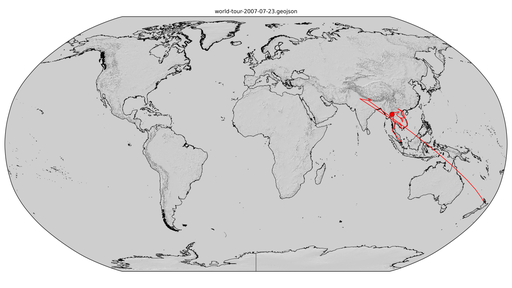 In the afternoon I went out and had a look at a few temples around Chang Mai. They are less sparkily than Bangkok and appear to have Chinese influences, with red painted timber and gold stencils. Walking around I also got talking to a monk, he started when he was 7 and has been a monk for 19 years.
I also managed to get on the internet today and update my site so that they now know I'm in Chang Mai. I shot off a few wall posts too. The plan is to go to Doi Suthep and the Tribal Museum tomorrow then Doi Inthanon the day after. I'll probably go to Laos via Huay Xai as it means I won't have to retrace my steps in either country.