Garden House Hotel, Chang Rai (Thailand)
metadata

keywords:
published:
updated:
I ended up getting the 1015 VIP bus to Chang Rai. There is a 2nd class bus at 1315 but I can't be arsed to wait considering I got here at 0900. Looking at some of the buses leaving all the earlier ones to Chang Rai are full. It wouldn't surprise me that the VIP one is the first one with a free seat. Also, the 'hostess', is a ladyboy and going to the toilet is a laugh as the roads are bendy and the driver doesn't slow down at all. Its like the closing scene from "The Italian Job" with the bus swaying everywhere. I had to lean all the way into the corner for some stability!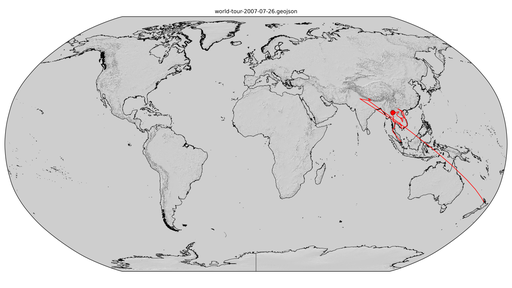 Garden House is going to be Mozzy Central as the room is not sealed. There is a dead cockroach on the floor and larger black ants scurry around. Stamping on them doesn't kill them unfortunately, you have to really rub them into the floor. The bungalow is a lot nicer than what I'm making it sound like, honest!
I went for a walk to the river (1.5km way) which was much smaller than I'd imagined. Its smaller than the River Wear in Durham. There's nothing to do here except crash on the bed before getting the bus and ferry to Lao tomorrow. There aren't enough lights in my room as a storm is coming and I'm finding it hard to read my guide book. We'll see what its like at night!
I've discovered another light and removed the heavy lampshades. Charters'd call it 'atmospheric' or 'ambient'. I had a good cheap meal tonight, 35THB, including pudding!
I'm a bit bored at the minute so I'm reading through some old texts, one from Jo cracked me up, it just says "Loser" and I have no idea why!