BAP Guest House, Huay Xai (Laos)
metadata

keywords:
published:
updated:
When I left in the morning, at 0720, all the sawngthaew were full. There were school kids everywhere! The bus journey was OK, quite cool. I was in my favourite seat next to the open side door.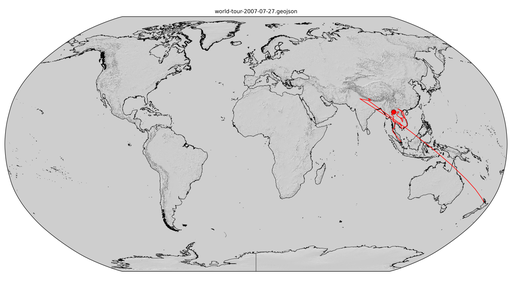 Immigration was simple enough, I got a 30 Day Visa, which is one up on the guide book which claimed only 15 Day Visas were possible from a land border. The town is really really small, smaller than 'The Bailey'. My room is great, I have hot water, electricity and a TV. I have not tried the TV yet, I'm out having lunch, 2 sandwiches with fried egg in them and a can of coke, 'tis good!
I've watched a lot of TV in my room: some baseball; BBC World; "Flashback"; "The Fast and The Furious: Tokyo Drift". The only thing I have to do in Huay Xai is go to the port tomorrow afternoon and book a place on a slow boat to Luang Prabang: it'll take 2 days. For now I'm enjoying the cheap beer, cheap food and the good accommodation.