Jaliya Guest House, Luang Prabang (Laos)
metadata

keywords:
published:
updated:
Well, today I got up fairly early and went and got supplies (3 sandwiches and some sweet pastry things). I spent my time before the bus reading outside or on the internet down the road, I figured that I might be out of contact for a while so I'd better email people and stuff.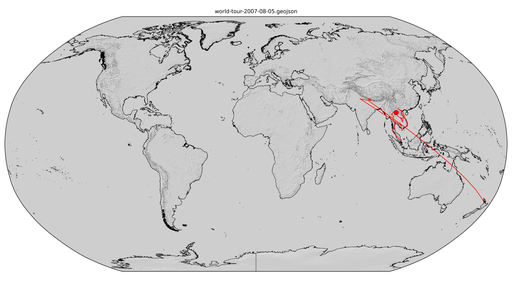 I see what they say, you must be patient when travelling in Laos: upon arrival at the station the bus departure has changed to 1730/1800 not 1600. Fortunately the bus arrived at 1715 and I'm loving it! It is the most clapped out bus you've ever seen. Its fairly full and the aisle is piled up to the armrests with large plastic bags of possessions. They are the kinds of bags you get sand in from the builders merchant. The only free double seat was the backrow so I had to clamber over everything with my two bags and food. The seat is falling apart and there are large gaping holes in the walls. The horn is very loud and the driver uses it to blast his way through cyclists. The bus is a lot faster than it looks, the driver must think he's in "Speed" or something, he stops for no man! A guy in front of me is blasting out Thai pop on his phone, its priceless I tell you, its the kind of thing you'd get in a novel. I'm not sure what to do when I'll need the toilet, the window looks like the best option. I'm grinning all the way! This is what travelling is all about, the journey is a bigger adventure than the place you're going!