Saysouly Guest House, Vientiane (Laos)
metadata

keywords:
published:
updated:
Whilst packing my bag for the bus this morning it appears that someone was transporting dead animals in the hold of the last bus as some of my Guide Books have been damaged by leaking blood. The India one is worst off with Nepal a close second. It is pretty annoying because all the pages appear like they've gotten wet, except the photo pages which have definite blood stains. I just hope it wasn't birds, but judging by what I've seen on other journeys, it would have been.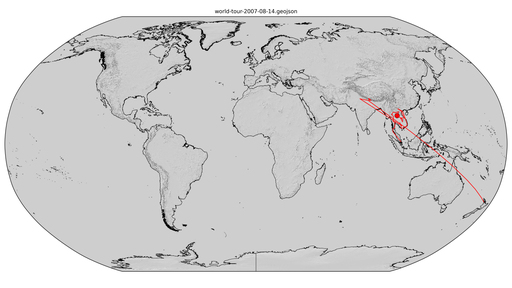 I got the 1000 bus to Vientiane which was supposed to arrive at 1330 but actually got here at 1430. I got a tuk-tuk to my Guest House and was disappointed to find that for 7USD I don't get an en-suite, however, the shared bathrooms are clean. I went for a brief walk to Nam Phu in search of lunch. On the way I noticed (I hardly couldn't notice) that Th Setthathirat (one of the three main roads in Vientiane) was dug up and in the middle of being resurfaced. This is going to make walking more difficult as it is cordoned off - I got away with it though!
Lunch was taken at the "Scandinavian Bakery" where £2.16 gets you a glass of water, an iced coffee, a slice of chocolate brownie and a foot long chicken Tikka and salad baguette sandwich in an ice cold air conditioned room with a newspaper. I felt like I earned it, no idea what for, but it was gooood. I went for a walk around Vientiane to get my bearings back and found that a single in the B&P is 18USD and that the 'French Restaurant' isn't open in the afternoon, so I couldn't check out prices. I may brave it one night, just because. Tonight I'll go and see Patuxay (aka 'Arc de Triomph Rip-Off' or 'The Vertical Runway') lit up which will leave the "Morning Market" and Pha That Luang for tomorrow.