Hien, Cantho (Vietnam)
metadata

keywords:
published:
updated:
Getting up at 0500 wasn't that hard as I didn't sleep that well anyway. The boat guy was prompt and we departed at 0545. The whole trip was good and I got back at 1330, so a rather full day. I'll spend the rest of it just thinking about my plans and possibly a power nap, I'm not too sure.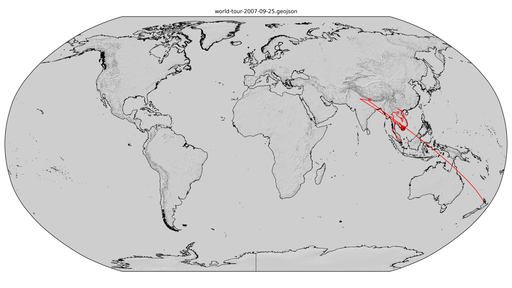 I visited both the Cai Rang and Phong Dien floating markets. They were good to see but not on the same scale as Damnoen Saduak (near Bangkok) which was a good thing as they were less touristy and more authentic. They were also on the Mekong itself instead of little canals so the boats were a lot sturdier making it less homely. I also went to a fruit farm and a house where they make rice noodles. My driver/captain/guide seemed really intent on teaching me the names of every fruit we saw in Vietnamese, after 5 minutes I would forget. I also went on endless canals twisting their way through villages and palm swamp-type places.
It's a good job I got back when I did as it's absolutely tipping it down at the minute! I've got a minibus ticket for Rach Gia for tomorrow including pickup from the Guesthouse at 1000 so that's all sorted. It's looking like I'm going to have to spend a night there and get a hydrofoil at 0830 the day after.