Nhat Lan, Phu Quoc (Vietnam)
metadata

keywords:
published:
updated:
The boat journey was fine, a little bumpy at times but OK. The vast majority of passengers were Vietnamese which surprised me. I checked out two places to stay and decided to opt for the bungalows on the beach instead of the inland bungalows with TVs which were a dollar more expensive. It's nice here with palms, good beach and hammocks.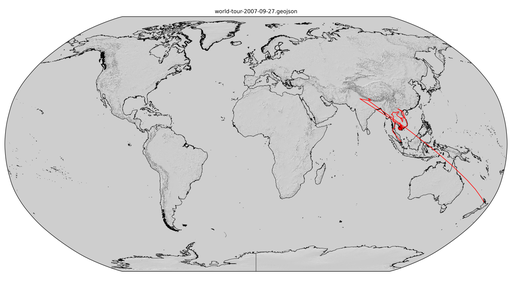 I'm going to stay here 4 nights before I go back to Saigon for my visa and bus to Cambodia.
Phu Quoc is good, there are nice clean long beaches running for miles and I have nice cheap accommodation - a large bungalow with en-suite and 2 double beds really close to the beach. I can hear the waves from my room but they're not deafening. I'm defiantly liking it here, the beach is nicer than Ko Tao and the accommodation is cheaper so no complaints from me! (Except the nightlife isn't as good.)
I returned to my bungalow to find a large spider in the far corner of my room on the floor. It turns out I am rather good at launching my sandals in such a way that they land sole-down, from a distance. Guymer 1 : Spiders 0. Living in my room was a step too far I think. I can handle them in trees from afar, covering the path in front of me is the upper limit, staying in my room 'Unacceptable'. Within 30 minutes the spider's body was being transported away by a squad of ants. I have photos. First they tried taking the spider into the bathroom whilst I was having a shower, now they're taking it down the wall which means that whilst I was reading on the beach they got it up the wall in the first place. They really are quite strong, I just don't know what they plan on doing with it. As long as they don't calve a path across my bed I'll be OK.
Now there's a toad in my room, he decided to hide under my other bed. As long as he doesn't croak all night then I don't care about him.
Happy Birthday Mummy!