Windows XP Guide
metadata
Introduction
This guide is to be seen as a companion of my openSUSE 10.3 Configuration Guide. However, in this guide I leave most of the hard work to The TweakGuides Tweaking Companion and simply provide links to a few pieces of choice software or specific pointers for personal customisation. Ones in italics are optional, do them if you think you'll need the software for your particular needs.
Security Software
Utility Software
Additional Software
KDE
It is possible to install either the entirety of KDE or just individual subsets, such as KATE onto Windows. There is a website solely devoted to KDE on Windows, it's called The KDE on Windows Project and is well worth a visit. To do this, simply download the KDE installer and run it. When you have selected which mirror to use then you will get presented with a screen like this one: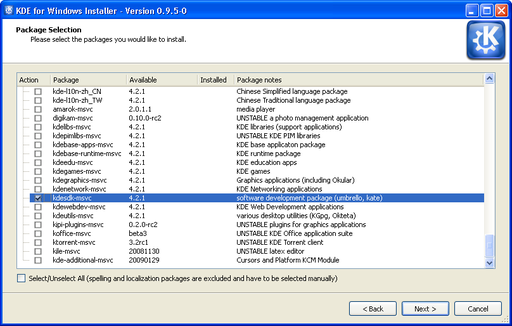 … just simply click which components you wish to install and you're away!
Game Mods
You may also want to add these to your Steam account, for free of course.
Tweaking
if you want to do a bit of tweaking to your computer, such as removing the advertisements from Windows Live Messenger, then check out these links:
Conclusion
If you've followed The TweakGuides Tweaking Companion, installed this software and perform regular maintenance then there is no reason for your Windows XP experience to be an unpleasant one.